Wind Turbine Molopile Roller Refurbishment
14th June, 2017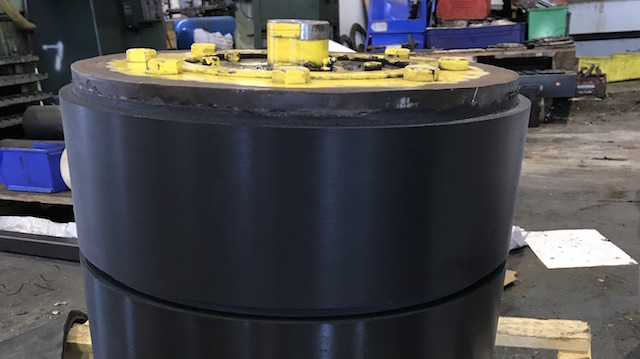 That's why it's important to use the right materials for repairing your products. This is especially true of the heavy steel fabrication industry, where equipment is continuously exposed to harsh elements and wear and tear.
Enquiry
We were contacted about having a large heavy roller used in the production of Wind Turbine Monopiles being re-covered. It had been damaged and needed repairs in order to be functional again.
Delivery
After communicating with the onsite maintenance department to gather information about the use of the roller, along with the sizes and equipment specification, we were able to advise on material, costing and lead-time.
Polyurethane was chosen due to the material's properties. It is ideal for use on a piece of equipment that will be dealing with heavy compression. Polyurethane also has great abrasive resistance and grip properties, which is needed to give the item longevity and keep it operational. We went with a 95 shore A hardness which has good ozone resistance, making it an extremely tough material for the environment it is going to be in.
Results
The size of the roller and weight of the item along with the roll was the most challenging part of the project. Our team had to take careful consideration to make sure health and safety was observed while still maintaining the quality of the re-cover. After successfully coating one roller, the customer was so happy with the quality and service, they then asked for another size roller to be re-covered. Of course we were happy to carry out the job.
Doug Heslop, production manager said of the project, "When the roller arrived I was surprised by the weight and size. After talking to production we carried the recovering very easily and very happy with the end result."
We are pleased with how the team rose to the challenge and were able to coat the item to the satisfaction of our customer. If you have a piece of off-shore equipment that we could help you with, get in touch.