Aquaseal team praised for "expert advice" on rubber plates project
2nd December, 2020
We were approached by our client, a mining and mining machinery manufacturer, around a year ago now. They came to us asking for wear/liner plates and retention plugs to support their work with a contractor on-site at Hinkley Point Power Station construction site. In our first meeting, we talked about the type of rubber that would be required and how the plate would be fixed to the steel fabricated shoot – information like this is essential to us so we can find the right material for the requirements.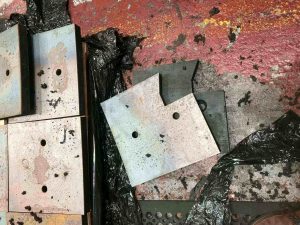 Over the next eight months, we worked closely with their team to talk over the designs and discuss any queries that we had for them around their designs. We then discussed different material options and price, specifically looking at the client's specification being met by our opted rubber type and manufacturing options for speedy results. Time was key on this project as the production time scale was shortened by the client to five months maximum due to demands and installation window that they were given by their contractor on site.
In the end, we agreed on a cold bonded option with retaining plugs. We bonded the rubber to the steel backing plates, used water jet cutting to shape and suit the complex layout of the loading shoots and counter drilled holes in every plate. The Aquaseal Rubber team and our client were really pleased with how they turned out.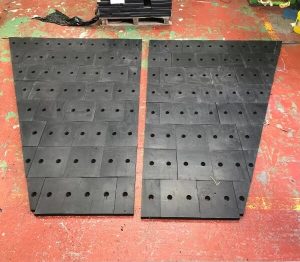 We got some excellent feedback from their Head of Purchasing:
"Just wanted to pop a little thank you for your efforts in helping us with the design and recommendations on the correct material to use in this project. Without your expert advice, we would never have met the customer's delivery dates and specifications and it's been much appreciated! As always you never let us down with the delivery schedule, thank you".
We can support with a range of rubber projects, providing advice on how to deliver with efficiency – get in touch with us for more information.