How might the hospitality industry operate post-lockdown?
27th May, 2020
A few weeks back we looked at how factories could operate after lockdown, based on what is happening in other countries. As bars and restaurants start to open elsewhere, we're thinking about what the UK might expect in the same industry.
Keeping diners separate
Social distancing will still be important to stop the spread of the disease, and in other countries, restaurants must keep their tables 2 metres apart. Lithuania is also giving their cafes free use of the outdoor spaces to help abide by the rules without affecting business. With the summer month's approaching, we could be experiencing more outdoor dining here as well.
Clear separation screens have also been used in other countries, as separators between groups of people and between diners on the same tables in some instances. These help control infection between customers, are easy-to-clean and can make guests feel more comfortable. We will also likely see screens on the top of bars and server counters to protect employees from any infections from customers.
It's possible that only table service will be provided. For example, people will no longer be able to gather around the bar and buffet-style restaurants will not be able to operate.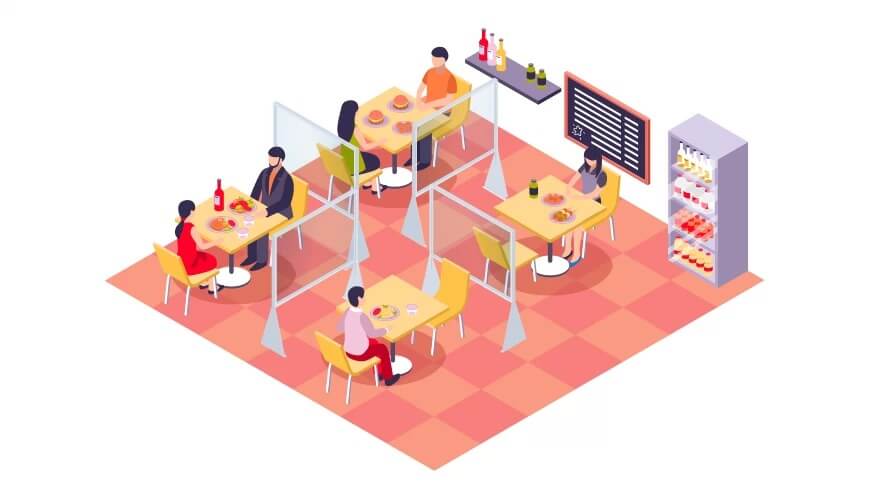 Protective equipment
The UK government have now recommended wearing masks in public spaces where social distancing is not possible. It's likely that this will apply in the hospitality industry, with waiters and bar staff wearing masks to serve their customers. It could even be possible that customers aren't able to enter without a mask (although this would have to be removed when food or drink is served).
Gloves are also being used by restaurant and café employees in other countries to prevent the transmission of germs onto their hands – again, this is something that we will probably see here in the UK.
Other protective measures could be hand sanitizer fixed to the walls that people are encouraged to use regularly and implementations to stop people touching door handles – automatic doors, foot handles or doormen.
New regulations
There are likely to be new rules that people must follow to keep restaurants and cafes as safe as possible. Some of the regulations in other countries include:
Diners must book tables in advance to avoid queues and make it easier to trace possible infection chains in a test and trace process
Places that are unable to maintain distance may have to be open for takeaway only
Plastic tables for easy clean
Limit eating times so that people are not spending too long in a restaurant
No physical menus, QR codes instead for customers to scan on their phones
No sharing plates
No shaking hands with diners
We won't fully know the guidelines for the industry until they begin to open in July but we do have a good idea of what to expect. If you're preparing for the opening, we offer separation screens and face masks – get in touch for more information.